Profile of Taiyuan Heavy Machinery Group Co., Ltd
Taiyuan Heavy Machinery Group Co., Ltd. (TZ), dating back to the first heavy machine plant founded in 1950 independently designed and built by the People's Republic of China, is a state-owned oversize backbone enterprise. TZ entered China Top 500 enterprises of manufacturing industry in 2005, achieved "National May 1st Labor Medal" in 2006 and was among the enterprises with revenue over RMB10 billion in 2008. The sales volume has always ranked the first in China heavy machinery industry since 2011.
With advanced equipment manufacturing technologies and outstanding independent innovation capability, TZ is one of the Chinese "Top 20 Innovative Enterprises" of China. It is capable of R&D and manufacturing of complete equipment for smelting, casting, forging, heat treatment, welding, machining, assembling & debugging, testing &metering and Packaging &transport. R&D center of the Group ranks the second among National Certified Enterprise R&D centers, the first of the industry.
With advanced technologies and equipment, TZ has delivered almost 30000 sets of equipment of over 2000 types to various fields including metallurgy, mining, power generation, railway transit, chemical industry, construction, new energy and aerospace, especially the key construction projects of China. Having won 4 national awards for inventions, 26 national awards for R&D results, 22 national awards for scientific and technological advancement and over 450 top 1 achievements at home and abroad, TZ is praised as the pioneer of national economy. Some of them are considered as our representative products by the first-class quality and reputation, such as 1300t EOT crane, 520t ladle crane, 6400t hydraulic crane, 20 m³-75 m³ mining excavators, 1.5 MW -5MW wind-power generator, Φ180mm 3-roll continuous rolling mill sets, 225MN aluminium extrusion machine, 3000KW electrical haulage shearer and Shenzhou spacecraft launch towers and Beijing 2008 Olympic opening and closing ceremony stage equipment are typical of TZ with outstanding quality and excellent public reputation.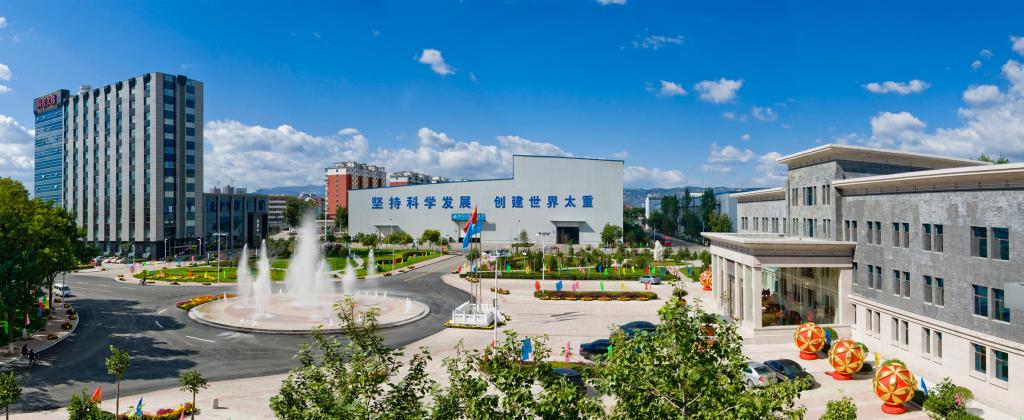 Having continuously reinforced innovation-driven development in recent years, TZ proposes a transformation development strategy that focuses on high-end, complete and intelligent products and international market so as to expand its manufacturing business to high-end equipment. The company's first offshore oil drilling platform has been successfully launched; a series of high tonnage all-terrain cranes and crawler cranes have been developed; wheels and axles for 350km CRH train have been delivered. The company is now capable of R&D and manufacturing of all series of wheels, axles and wheelsets of railway transit; in terms of new energy section, the company has developed whole set of 1.5 MW -5MW wind power equipment and speed increaser. Moreover, the company has taken the lead in developing 5MW offshore wind turbine. Hydraulic system, electronic control system, transmission system and OEM components like castings and forgings have expanded to high-end market with intelligent features.
Meanwhile, TZ has continuously expanded the depth and width in traditional service field via actively developing producer service based on products so as to transfer from product supplier to systematic solution provider. In mining area, the company provides the complete equipment (shearer, scraper conveyor, bridge stage loader and hydraulic support) of fully mechanized mining and complete equipment for semi-continuous mining of strip mine; besides, the company has extended the service to intensive coal processing equipment and EPC including coking and clean coal technologies; in metallurgical industry, TZ is capable of providing supporting service for overall process from mining and wharf transport to coking, iron making, steel making, steel rolling and finishing; in new energy area, TZ provides customers with all-round supporting service including design and development of wind field, equipment manufacturing and installation and engineering construction, depending on the advantages of complete equipment of wind power and engineering machinery.
In terms of promotion of internationalization strategy, TZ has closely following the government'sOne Belt and One Roadstrategy and takenEquipping the World with China Equipmentas its mission to actuate the company to transfer to a global enterprise. With R&D, manufacturing and service bases established in main overseas markets and gathering locations of technologies and talents, TZ has sold its products to over 50 countries and regions.
Along with the implementation of a series of strategic initiatives, TZ has developed a industrial pattern of coordinated development of mining, metallurgy, new energy, railway transit, engineering machinery, ocean engineering and high-end hydraulics. With total assets over RMB 40 billion, more than 13,000 employees and covering area over 4,400,000 m²,TZ is now a modern business group that integrates equipment R&D, complete equipment, EPC, equipment leasing, material trading and logistics.
In future, TZ will follow the core values ofIntegrity, Innovation, Refinement and Excellence, adhere to innovation-driven development and take the route of globalization and informatization to focus on the three growth engines: high-end manufacturing, complete equipment and producer service in order to achieve the goal of 50% business income from product transition and 50% business income from overseas business via core competitive products so as to build TZ a leading equipment manufacturing enterprise in the world and contribute more to build China a giant of manufacturing industry and realize the China Dream.